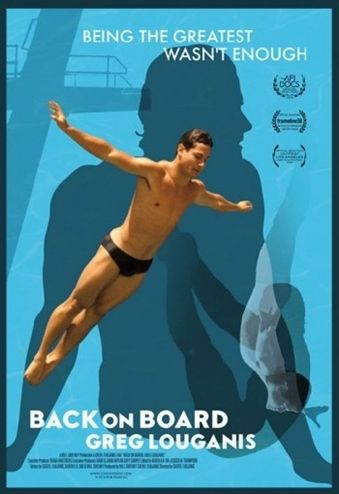 Original Title / Título Original: Back on Board: Greg Louganis
AKA: Greg Louganis - Megugrani a lehetetlent
Director: Cheryl Furjanic
Script / Guión: Cheryl Furjanic, Karen Sim
Country / País: USA, UK / Estados Unidos, Reino Unido
Year / Año: 2014
Genre / Género: Documentary / Documental
Runtime / Duración: 90 min.
Language / Idioma: English / Inglés
Subtitles Hardcoded / Subtítulos pegados: Spanish / Español
Cast / Elenco: Greg Louganis, Ron O'Brien, Kyle David Pierce
Synopsis: Feature-length documentary about the greatest diver of all time. Four-time Olympic champion Greg Louganis has faced more than his share of challenges. In 2011, he is far from the public eye and struggling to pay his mortgage. Now, the openly gay, HIV+ world-class athlete returns to diving to mentor the USA Olympic hopefuls. This may be his best chance to regain the notoriety -- and financial stability -- he enjoyed at the height of his career.
Sinopsis: Back on Board es el retrato íntimo, honesto y positivo de los triunfos públicos y las luchas privadas de Greg Louganis, cuádruple campeón olímpico de saltos de trampolín y uno de los primeros atletas internacionales abiertamente gays. El documental sigue a Greg Louganis a largo de los tres últimos años, en su lucha por encontrar la seguridad financiera y en su reencuentro con aquel deporte que un día llegó a dominar, pero que le dio la espalda.
Trailer